Birthday Party for a King
It is a big day for Chaovachote Chanyasak, 17, a student at St Gabriel's College in Bangkok.
"Everyone in our country respects the king," he says, as he gestures to his friends behind him. "We even hang a national flag at our house."
The entire school is involved in the birthday bash.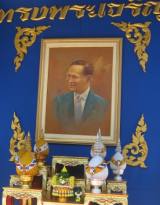 Preparations for the birthday bash begin long before this day.
Everyone's invited to this birthday party
Flags, lights and portraits decorate the streets and the noisy, traffic-clogged heart of Bangkok grids to a halt.
It's Dec 5, 2007, Thai King Bhumibol Adulyadej's 80th birthday.
To catch a glimpse of their King, about 100,000 people wearing yellow—the color that symbolizes devotion to the Thai monarch—pack the streets leading to The Grand Palace.
After a few hours a stern-faced old man passes in a parade of motor vehicles. To greet him the crowd chants "Song Phra Charoen" which means "Long Live Your Majesty" in Thai.
This day is officially a national holiday in Thailand.
Schools get involved, too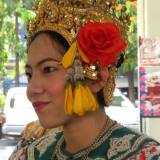 Ms. Dymzak dresses for the day, but the Thai king is respected all the time!
Small yellow flags are hung all around the school. Teachers wear yellow T-shirts for the special day.
An enormous alter is set up at the school field. This is also where Chaovachote and his friends sing the song San Seng Pra Barami which means "respect the kindness of the King" in Thai.
After singing the songs, students walk up to the alter to pay their respects to the King. Teachers donning bejeweled traditional costumes do the same with a dance on the stage.
It is a day that teachers like Ms. Tipawan Dymzak take time to prepare for. The English teacher practices moves for a week so she can perform a three-minute dance to "appeal to gods to protect the King."
She says, "I cannot express how special being able to dance for the King is."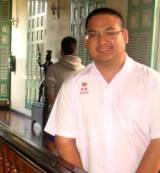 Chaovachote pauses for a moment between classes.
When the bash is over
Once the celebrations are over, it's back to school.
Chaovachote and his classmates leave the field in neat rows to go to their first class.
This is not much different from a regular school day when they assemble in the field at 7:40 am for 20-minutes to sing the Thai national anthem and say their prayers.
Although Thai is each student's first language and "everyone speaks Thai in Thailand", he explains, "English is compulsory and students attend English classes from Primary 1 because it is a global language".
In class—like in classrooms everywhere else—students sit on wooden desks in front of a blackboard.
Chaovachote hopes his diligent study habits will pay off. He wants to attend the prestigious Chulalongkorn University in Thailand.
His dream is to be a pediatrician because he loves children, and he has to work hard, but....
Tweet