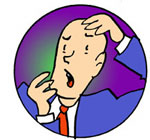 .
Gadzooks!
Looks like each kid tried to hang his or her own banner.
Can you help Uncle Jim sort out this mess?

Only one kid correctly connected the letters in the word HELLO. When you discover which one, click on the kid with the same color shirt. If you're correct, a star will appear!

Did you get it right?
Uncle Jim has more banners to check.
Follow him to the teller windows by clicking here.