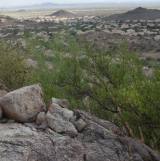 Click on the image to reveal Vanessa's hidden treasure.


There's a hidden treasure in your neighborhood. Actually, there's probably more than one:
Within five miles of Caroline's house in Lakeville, Minnesota, there are 91 of them;
Three miles from James' house in Madison, Wisconsin there are 30;
Vanessa in Phoenix, Arizona has 18 treasures hidden less than two miles away;
And the president of the United States has 40 …just one mile away from the White House!
Where did these treasures come from? It's not the work of pirates or secret agents.
The treasures are hidden by regular people playing a fun game called geocaching.Geocaching—The Game and The Word
In this game, people hide something and posts clues on the Internet showing you how to find them.
You read the clues and go on a search for the hidden treasure. If you find it, you let the person who hid the item know. Then you try to find another!
The first part of the word 'geocache' is short for 'geography.' The second part, 'cache,' is pronounced like the word 'cash'. It means a 'secure place of storage.'
We call them 'treasures' but geocachers call their hidden items 'caches.'
Close
The coordinates
Any geocaching treasure can be found if you have the coordinates:
The treasure is hidden where the latitude and longitude cross each other.
The treasure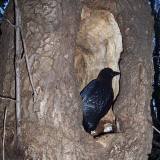 This hidden treasure was found deep in the woods in an old tree.


A treasure container can be as simple as an old peanut butter jar.
Or it might be something tricky—a fake rock, a phony tree branch, a small magnet, or even a member of the animal kingdom!
The treasure chest that holds your hidden cache can be any shape or size.
If you're looking for millions of dollars, gold coins or expensive jewels, you might be disappointed. Just about every container will hold a logbook. This little notebook gives you the chance to record your visit.
Write down your nickname and when you found the treasure. That's proof that you found it!
Other items in a treasure container can be anything and everything. Larger containers will usually have small toys or other trinkets...