Do you like golf? Well, if you do, you know that golf can be very expensive. So, here are some ways I like to make it a little more affordable.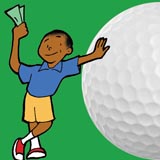 Buy golf balls in bulk!


Save money on golf balls
Buying golf balls in bulk almost always provides some savings. In other words, you'll pay less if you buy a package of balls instead of buying them one by one.
If you're new to the game, try getting used balls, or balls in bulk to keep your costs down. As a beginner, you'll probably lose tons of balls every time you play, so don't buy expensive, name-brand balls that will only end up at the bottom of a lake or deep in the woods.
When you look for golf balls, make sure they aren't cracked, cut, scraped, or scuffed. Also make sure they're not discolored.
Once you buy your balls, watch out! Many things can ruin a ball, such as:
Lawn mowers
Hitting it off a rock
Hitting your ball into the woods
Lower your costs for golf clubs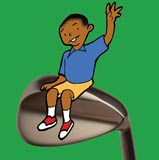 Buy full sets, not individual clubs


Another way you can lower your costs is to buy a full set of clubs instead of buying individual clubs. Check out yard and Internet sales. Generally the items you get that way are used.
When you buy a full set of used clubs, you often can get good quality and deals, and you get the clubs you need without having to figure out exactly which kind to buy individually.
Watch out for super cheap equipment! It is often in poor condition. While you can play more affordably with this equipment, you might not be able to play your best game and your gear probably won't last as long.
You can also rent equipment...