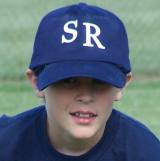 You must be ready to field the ball at all times.


Some kids dream of being professional baseball players when they grow up.
Only a few make it to the major leagues. Their love of the game and commitment to hard work helps their dream come true.
The real fact is that only one out of every 100 high school players gets picked to play in minor leagues—that's just 1%.
Then only 1% of those minor league players get picked for the major league.
Work for the money

Learning to throw properly takes a lot of practice.


Let's take a look at how much money a pro ball player can earn and how he or she will earn it.
When you first start out in baseball, you do not make a lot of money. It takes years of experience and a really good contract to make real big money.
For instance, if you start out in the minor leagues, you usually get a standard seven-year contract. The amount of money you make depends on your level.
Here's a chart that describes the levels, along with a short explanation of each level.
Every year, players from one of my favorite teams...