The College Life: Shilpa's Story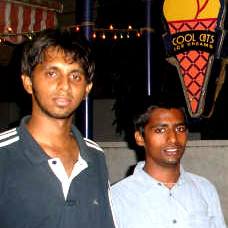 My friends and I like to hangout right next to our college.


Favorite hangouts
Music is a big deal to students—at home and when we're out.
We have a lot of hangouts right next to our college. We often go there with our friends to work on our presentations for the intercollegiate culturals.
After we're finished with our work, we like to have a bite to eat and listen to music.
Friday night is ladies' night in most of the pubs and discos. That means free entry and free drinks.
Not that we do this every Friday. Most weekends we end up sitting at home and watching TV and working on our projects and submissions, or our internship.
I Love Chick Flicks!
I'm a big-time movie buff. I see all the movies that release on Friday during the weekend.
My favorite kinds of movies are comedy films, romantic movies and war movies.
Some of my top movies are Shrek, Finding Nemo, Scary Movie 3, Freaky Friday, The Great Escape and Where the Eagles Dare. I love chick flicks!
Since I live in South India, movies are in the main language, Tamil, along with Hindi (our national language) and English. There are loads of languages to choose from so it's difficult to choose a movie.
Always in touch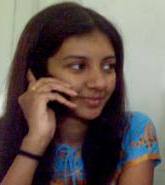 Sharanya needs a service provider that gives free unlimited messages!


Music is important to students like me. The latest trend is to have the most current camera/MP3 mobile phone and use a service provider that gives you free unlimited messages.
We need all that cool stuff to entertain us and cheer us up when we are bored or stressed out.
I can't live without my phone—it's part of my body. We spend a lot of money recharging or paying postpaid bills for our mobile phones. A lot of girls have two SIM cards for their phones.
And that's why people go for part-time jobs. We have to earn money so we can buy SIM cards (worth 200 Rupees or about $5), and recharge them (for a minimum of 330 Rupees or about $8).
Keeping an eye on the bigger picture
I think most students know why they're at college and take it seriously, doing their coursework and applying for internships.
Today, I realize that it's not all about partying and socializing and having fun! I really love my courses.
Even though I realize I have to work hard, I celebrate the fact that I am no longer a young child who is completely dependent on my parents.
I am partly independent! Sweet Independence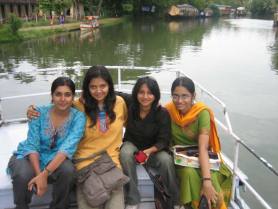 Independent women
My friends and I take a boat ride in on the backwaters near Kumarakom, a small town famous for its scenic beauty, in Kerala, South India. We are: Jaya, me, Janani, and Ramya
I wasn't always very independent. I used to depend on my parents for everything.
But when I came to college, I found that everyone has jobs and that people earn their own gadgets, clothes, shoes, etc.
I got a part-time job so I could pay my semester exam fees. I even earned enough money to get myself a laptop and a mobile phone. And I realize this just because I am in college!
Close

True or False: When Benjamin Franklin returned to Philadelphia from France in 1785, his city was so angry at him for leaving that they ignored the great man's return. Click Ben's head for the answer.
FALSE: He was welcomed with the firing of guns and the ringing of church bells. They even appointed him as the president of Pennsylvania's Supreme Court, a position similar to today's governor.
Tweet