Orchestra: Don't Miss Out!
Do you have any after-school activities? If not, you should join your school's orchestra. Why? Because it's super fun! You get to hang out with friends and learn a new talent.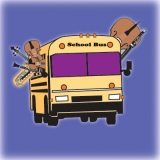 Field trips are so fun!
Play for a ton of people
I am involved in orchestra and have been since the fifth grade. I love when my class goes on field trips and we have concerts and play for tons of people.
On one of the field trips my class went to the nursing home and played for all the sick people there. We also have taken a field trip to the mall and played there.
I love to play my violin. I got it when I was in fifth grade and I'm now in ninth grade. Sometimes, my orchestra gets to play with "celebrities" like Mark Wood.
He may not be a very well-known celebrity, but he is if you are in my school's orchestra. He has made his own line of electric instruments.
This year, my orchestra is going to have a "rock" concert with Mark Wood in May. We are going to play rock music and some of the songs he wrote himself. It's going to be bunches of fun!
Make friends
Since all my friends are in orchestra, it makes orchestra more enjoyable. I wouldn't have half the friends I have now if it weren't for orchestra. Orchestra is my favorite class in school because of my friends. An orchestra works like a team.
When in an orchestra, everyone has to work together or else the music doesn't turn out right. Like my teacher, Mrs. Abrams, says, "Its better if you think of us as your 'orchestra family' because it helps us work together and makes the atmosphere more relaxed."
When I hang out with my "orch dork" (orchestra) friends, orchestra is something we all have in common and can talk about.
Learning an instrument takes time and money...
Tweet