The end of a fad
Take a look at a website some kids created about fads!


Karen's clogs met the eventual downfall of every fad. Once everyone owned a pair of clogs they lost their unique and special quality.
The shoes were no longer considered cool, rather they were called by a name that is the deathblow to all fads—lame.
It all happened in two weeks!
Every person who owns the cool, striped clogs now wishes they hadn't followed the fad. They wasted their money on something that lost its appeal in less than a month.
What's Karen supposed to do? The clogs she just bought are lame! It isn't her fault everyone bought the same shoes, but she still gets the same results of being part of a fad.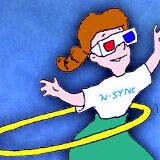 Will you be able to enjoy it when it's no longer a fad?


Avoid the fad rush
The best tip to help you avoid the rip-offs that fads create is to wait.
Hold off a few days to get a clear picture of why you want to buy something.
Ask yourself these questions:
Can I wait until there is a sale?
Is the item just too expensive?
Will this still be cool in a couple of months?
How much money will I have after I buy this?
Don't let fads get the best of you!


Time will tell if it's a good idea to purchase. If it's not a good idea you save money.
If you decide to buy, whether a fad or not, you'll be happier with you purchase.

True or False: Abraham Lincoln first encountered slavery as a young boy when his parents owned slaves.
Click Abe's head for the answer.
FALSE: Actually it was the opposite of this. Lincoln's parents, while living in Kentucky, hated slavery and thought it was evil. They decided to uproot their family and move to a free state, Indiana. This was Lincoln's first encounter with slavery-to run from it.