Ever spent a ton of money on something you thought was lame two weeks later?
How did it happen? Could you see it coming?
You can't predict fads. Which is good because if businesses could knowingly create a fad, shoppers would be helpless.
Birth of a fad
Fads aren't new. Look at the crazy fads from past decades.


While shopping, Karen found a pair of cool, red clogs with little stripes going down the sides. She bought them and wore them to school the next day.
Everybody LOVED them, even her teachers.
The next day a girl in her class came in wearing the same exact shoes. A couple days later another girl came in with the shoes also!
Within two weeks 16 girls she knew had the red clogs. Karen had started a fad!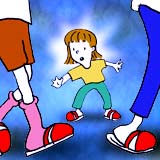 What's going on?


Figuring out fads
Karen thinks the new fad started because:
Stripes were in style, and not just in basic print, but down the front, on the sides, and on the sleeves! Karen's new shoes matched the current style.
The shoes looked stylish, but Karen also told everyone how comfortable and practical they were.
The shoes were cheap. Not a bargain, but a great price for something cool, trendy, and stylish!
Karen was surprised when...