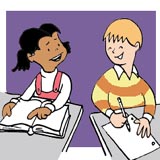 No more school fears


Are you moving up a grade in school this fall?
Meet Emily and Matthew. They want to talk about taking charge of four going-back-to-school fears.
"Hi, I'm Emily. I'm in fifth grade this fall. I'll start off. I'm really worried about not having friends."
I won't have any friends
"I don't know how to talk to strange kids. And I'll die if they ignore me," Emily adds.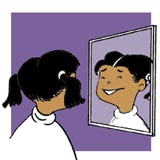 Practice in front of a mirror.


Emily's Mom has helped Emily come up with a plan. Emily's going to pretend that other kids are people she's invited to her house. She'll:
Smile and say hello.
Ask them questions about themselves.
Emily says, "I practice things to say, in front of a mirror. I smile at the mirror and say, 'Hi, I'm Emily, what's your name?'"
Friendships outside of school.


"Then, I ask questions to show I want to get to know them," Emily adds.
Here are some things Emily will ask:
What's it like where you live?
What do you like to play?
What do you like to read?
What do you know about the teacher?