Orchestra: Don't Miss Out!
It costs to be a good musician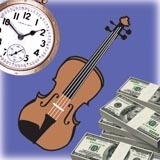 Buying an instrument can be expensive!

To buy my violin we had to pay $300. If we would have rented, it would have cost much less. However, we decided to buy it because it was easier to buy it than rent it.
Also my other instrument was broken at the time (right before a concert my violin broke; the peg came off, so I had to get a new one).
What are the advantages of renting instead of buying?
You pay only once, up front
You own the instrument
It's cheaper, if used only a short time
Buying is always more expensive
When you're in orchestra you have to practice the music or else you will have trouble playing it for concerts. I practice every day for about half an hour. I have become one of the best in class and have been first chair all year. (First chair just means you are the leader of your instrument group).
I feel that because I practice this much, it makes me a better player.
When I get to high school though, I will probably practice much more because the music will be harder than it is now.
Like I said before, when you're in orchestra, you are part of a team, and you don't want to let your team down by not practicing. You know the saying "practice makes perfect"? Well, in orchestra, practicing really does help.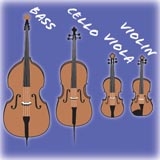 Which one will you choose?
So many different instruments
There are many different instruments, but in my school's orchestra there are only four kinds:
Violin. This is the smallest instrument in my school's orchestra, but it has the most players. The violin plays the highest notes in the orchestra.
Viola. The viola is only a little bigger than the violin. It plays in a slightly lower pitch than the violin.
Cello. This instrument is bigger than a viola but smaller than a bass. It plays in a lower tone, lower than both violins and violas. I would really like to learn to play this.
Bass. As tall as a person, this one's the hardest to transport. It also plays in the lowest tone in the orchestra.
The majority of my friends play the violin. I do too and I love it! I wouldn't want to give up playing it for anything.
Please Join!
I'm really happy that I started orchestra. I have a lot of enjoyment when performing and my practice really pays off. I am one of the best because I practice and I'm always prepared for any test my teacher gives on the music.
See if your school has an orchestra program, figure out which instrument is right for you, and get involved. If you don't, you are definitely missing out!

True or False: Andrew Jackson was against slavery and actively campaigned to abolish it. Click Andrew's head for the answer.
FALSE: Jackson was not against slavery and in fact owned slaves at his mansion, the Hermitage.
Tweet