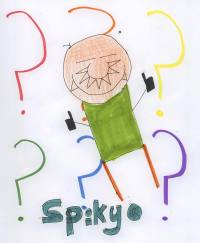 Spiky is Digey's worst enemy! He's an annoying, unknown THING!


Ask Jim Davis
Jim Davis' comic strip, Garfield, is really popular. He's won many awards including the Reuben Award, which is presented to the outstanding cartoonist of the year by the National Cartoonist Society.
If you want to be a cartoonist, Davis suggests, "read, read, and read some more." He says, "To be a good comic strip artist you must be a good writer."
That's because to make a joke, you must be a good writer. And to be a good cartoonist, you must have a joke.
Davis suggests that you watch movies and television and hang out with friends to get ideas. He says, "Drawings are important, but concentrate more on the writing part."
"Have something to say that's unique or different—something that's especially 'you'," says Davis. `
Get your comic strip out there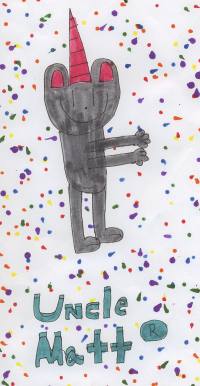 Meet Uncle Matt.


How do you get your comic strip into lots of newspapers? For example, Garfield is in 2,600 newspapers. Fox Trot is in 1,000 newspapers.
The answer is syndication. To get syndicated, you send your comic strip to a syndication company. If they like your strip, they'll sell the strip to editors nationwide, sometimes world-wide.
Getting into a syndicate might sound easy to you, but it's hard. A publicist from the Universal Press Syndicate, Kathy Kerr, says, "three to four people out of 3,000 to 5,000 submissions get their comic syndicated."
She says, "Most cartoonists have to meet daily deadlines. It takes a lot of maturity to sit down and say you're going to do something everyday."
Jim Davis agrees, "I have to do my cartoon strip because people are depending on it. So that's why, normally, you'll find that all of our cartoonists here are out of college and they've got some years on them, some maturity."
Try making your own comic strip.


Whether you're out of college or in college, you might wonder, "What if I still get rejected from a syndicate?" Never give up.
That's the main thing that Jim Davis says. If you believe in your work and you have fun with it then other people will have fun with it too. So the thing is to never give up.
Can you make a living at it? Ask Kathy Kerr...