New Ways to Use Old T-Shirts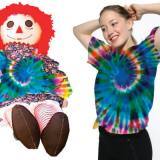 Doll clothes could make a great gift for friends and family.


4. Make doll clothes
As a nice gift, you can make doll clothes from old baby T-shirts.
A sewing machine would make the project go faster, but you can always hand-stitch the clothes together.
5. Make a bag
To make an awesome and original bag, turn the T-shirt inside out and sew across the hemline. Cut off the sleeves along with the collar, scooping down low in the front and back. Finally, turn the shirt right side out and the bag resembles the shape of a plastic shopping bag.
Don't have a sewing machine? Not to worry. YouTube shows you how to make a bag out of a T-shirt, duct tape, and staples.
6. Make a kennel pad for your dog
Keep your dog nice and cozy with your old T-shirts.


The bottoms of dog kennels are very hard for any dog to sleep on. Your dog will appreciate it if you make a pad for her kennel.
To make a kennel pad, turn the T-shirt inside out, cut off the top from armpit to armpit, and stitch the bottom hem closed.
Turn the t-shirt right side out and add two to three layers of polyester quilt batting, cut to size, and then stitch the opening closed.
To keep the batting from shifting, use yarn and a big needle to make five evenly spaced tied tufts. If you don't have a dog, talk to the people at your local animal shelter to see if they will accept your kennel pads.
7. Make a quilt
Some T-shirts are of great sentimental value to you, whether they are from winning sports team, old dance recitals, or school clubs. Get those T-shirts out of your closet and retain their sentimental value by turning them into a quilt.
A quilt is something you can have your entire life.


First, press a lightweight iron-on stabilizer onto the back side of the part of the shirt you want to keep. Cut out that part of the T-shirt into a square. Stitch the squares together in rows and columns. Add batting and backing to complete the quilt as usual.
These two websites have great instructions:
Now you will always be able to remember the good times behind those shirts when you snuggle under your new quilt, or you can...
Tweet