Is it for you?
Legally speaking...gambling is not for you if you're under 18 years of age. Yet gambling in our society has become so prevalent that underage gambling has become a problem. Before we get into that, let's look at gambling--or gaming--in America. Gaming is what the industry prefers to call it, which sounds more like harmless fun.


No one in continental America lives farther than 100 miles from a legal gambling opportunity.
The American Gaming Association estimates that $30 trillion is wagered in legal forms of gambling every year. That includes state lotteries, casinos, horse and greyhound racetracks, professional and collegiate sports, riverboats, and online betting.
Federal and state agencies regulate and monitor all legalized gaming in states, counties, cities, and on reservations. That includes setting the percentage of returns, which is the money that must be paid out to players.
Are the odds good? No, you have a better chance of being hit by lightning than winning a lottery jackpot. One look at the size and opulence of casinos should tell you something, too. They're built and run on bettors' lost money.
Consider a recent Powerball jackpot that openly, and legitimately, advertised the odds of winning as 80 million to 1. That means YOU have as much chance of winning as every state resident of California, Texas, and Florida...our three most populous states.
For more on the odds of gambling check out this PBS site. Follow this link to find out if the lottery is a good bet.
Why do people begin gambling?
Entertainment--individuals are willing to spend (lose) a certain amount of money just to play.



Promise--"Somebody" will win, and most gamblers are willing to invest in the possibility and hopes that they will indeed become that "somebody."



Ignorance--most people don't know how badly the odds of winning are stacked against them.
Why can't they stop gambling?
The games are set up to provide intermittent reinforcement. That means that occasional payoffs create the expectation in gamblers that the next reward is always 'just around the corner' if they only keeping playing. The behavioral term for it is "operant conditioning." Ever hear of the laboratory studies done with rats in the maze? Check out Rat in a Skinner Box for more information on these interesting experiments.
The high costs of gambling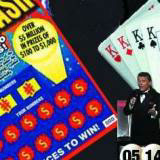 As gambling opportunities have increased, so have the number of compulsive gamblers--an estimated 2.5 million people or 3% of the adult population are affected. Reports show that the 298 U.S. counties with legalized gambling had higher filings of personal bankruptcies than nongambling counties.
Atlantic County, the only New Jersey county with legalized casino gambling, had a 71% higher bankruptcy rate than the rest of the state. Nevada, the only state with legalized casino/sports betting had a 50% higher rate than other states. Twenty percent of compulsive gamblers admitted filing bankruptcy as a direct result of their gambling losses.
SMR Research estimates that personal bankruptcies in 1996 cost consumers more than $40 billion, and every household in the nation paid an average hidden bankruptcy cost of $408 through higher-priced goods and services.
Compulsive gamblers can't control their desire to gamble. Winning is irrelevant.
The cost of crimes committed by gamblers seeking to support their habit is difficult to calculate. But as more gamblers seek professional help for their addiction, their admissions of crime indicate that it is increasing significantly.
Teenage gambling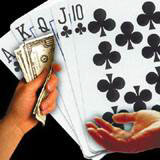 Underage gambling is a growing problem. In fact, some say it's an epidemic. In New Jersey, a survey of 3,000 high school students revealed that more than 90% had gambled at least once, and 30% gamble weekly.
Addiction to gambling is not a pretty picture. Losses create desperation, which leads people to obsessive behavior and even crime. Severe mood swings, money loss, panic, and even suicidal thoughts are common. Gamblers' Helpline organizations cite examples of underage gambling as:
The largest number of calls to toll-free helplines occur during professional football playoffs, the Super Bowl, and March Madness.

Tim, 17, was caught at an Atlantic City blackjack table. At 18, he owed a loan shark $6,000.



Mary, 16, gambles everyday. Her friend says, "I'm worried about her. I think she has a real problem and I don't know where she gets the money."



Dave, 17, made book (sports betting) at his high school. He was caught when another student tried to sell his mother's ring on school property to pay a debt to Dave. Now, both youth face serious charges.
Youth gamble to enhance self-image and ego, escape reality, and for the excitement. According to a University of Minnesota researcher, the risk of developing a gambling addiction is four times greater among underage gamblers than for adults.
Do you have a gambling problem? Take the 10-question quiz compiled by the National Council on Problem Gambling to find out.
If you think you need help, call the Gamblers' helpline at 1-800-522-4700. Underage gamblers account for 5% of their calls, so you're not too young to ask for help if you need it.

True or False: Benjamin Franklin was nicknamed the "Water American". Click Ben's head for the answer.
TRUE: On his first voyage to England, he drank a lot of water while his British counterparts he was traveling with drank mostly beer.
Tweet