Pick a Card, But Not Any Card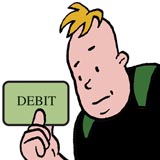 I'm sometimes called a "cash card."
Debit cards
A debit card gives you easy access to funds in your checking or savings account. The card deducts the amount of your purchases from your account like an electronic check.
These cards don't involve interest because you aren't borrowing any money—you're using your own. The cards work like cash, and are sometimes called "cash cards."
You can use debit cards to:
Make purchases
Take out cash
Deposit money
Transfer money
The magnetic coding on the cards allows them to work in ATMs, where you can do all the functions named above.
You can also use them at most cash registers and POS terminals to make purchases and take out cash.
These cards might affect your credit rating when used improperly. If you spend more than you have in your account, or don't keep track, you become overdrawn. You'll receive a notice and usually a fine from the card issuer. These Non-Sufficient Funds (NSF) notices also might appear on your credit report.
How about prepaid cards? Read on...
Tweet