A Super Soaking Good Time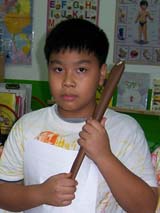 Fluck holds Pinocchio's nose.


What if your mom and dad said it was OK to throw water on your friends, family, and even people you didn't know?
That's what Fluck does for one week in April during Thailand's SongKran celebration.
"SongKran is my favorite holiday. I like it better than Christmas or my birthday!" says Fluck, who is nine years old.
Let the fun begin!
Every April, Fluck and his mom, dad, and little brother Fong leave Nonthaburi, a suburb of Bangkok, Thailand. They go the Northern Province where his Grandma and Grandpa live.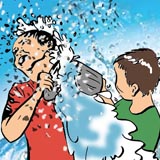 The SongKran festival is celebrated in other countries too.


SongKran starts on April 13 and celebrations finally end on April 17. Fluck and family stay there for six to ten days.
Fluck loves the holiday customs—he gets to ride in the back of his uncle's truck with his three cousins and Fong.
They throw water at people or squirt them with their water guns. "I like to use my big water gun, a Super Soaker," says Fluck.
"I throw water on people on the sidewalks or on the side of the road," says Fluck. "This is OK to do.
Most people shoot back with their water guns! Some people wait at the corners with big buckets of water to throw at cars."
Thai kids use their own spending money for snacks.


Sprinkle it on
People aren't just wet, though. Some people look like they should work in a bakery! That's because many people use talcum powder.
This helps them to stay cool. During SongKran, some people throw powder and water. This makes a paste on people's skin. "Many people are very white!" says Fluck.
During SongKran, people are wet most of the day. Many people put their money in plastic bags. Almost everybody gets wet. Even the police!
What's SongKran?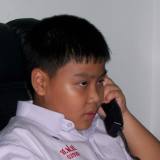 Fluck loves to spend time with his family during SongKran.


SongKran is a very old tradition. It is meant to pay respect to older people. Throwing water allows the Thai people to start the new year fresh.
SongKran is also a time to say thank you. People think about ways others were kind to them. And they spend time with their families, like Fluck does.
After SongKran, Fluck and his brother go home. They return St. Francis Xavier School, where Fluck is in the fourth grade.
His favorite subject is English "because I want to learn," says Fluck. Fluck likes to read comic books, too. He really likes comic books about dinosaurs and elephants.
One of his favorite books is a Doraemon book about dinosaurs...
Tweet