include($DOCUMENT_ROOT . "/googolplex/subscriber_logo.php3")?>

Well, well. Look what the cat dragged in. You're just in time to assist me in my latest wicked deed
Allow me to introduce myself ... I am the Mad Doctor Xelplogoog. I would think you would know me by now, but a name like mine bears repeating!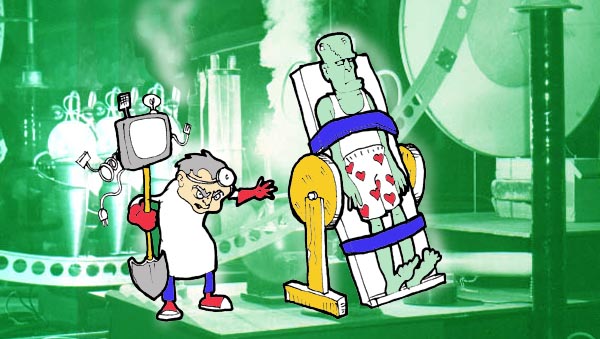 As you can see, I am in the middle of a grand experiment, one that will bring life to that wonderfully horrible creature on my operating table. But I certainly can't send him out to terrorize the village dressed like that!
I need you, worm, to do some graverobbing for me. You won't be stealing bodies ... that's been done to death! Instead, you're going 'shopping' for the accessories I need to make this green goliath presentable in public. There's a rather large graveyard right behind my castle. Do a little digging for the items we'll need.
And because your arms look a little scrawny, you may want to take this little invention of mine. It's an electric-powered jackhammer/shovel. Just hold it over the tombstone, and wherever you move your mouse, it will slowly uncover a clue to what lies beneath!
Are you ready, servant? Then click here to begin!