Cellphones: 3G or Not?
Who needs email? I can text...

Texting does not require the Internet or a 3G plan. In fact, texting is easier on some brands of non-3G cellphones than on smartphones! I do not use my 3G plan for texting because it comes with my regular phone plan.
E-mail, on the other hand, is much easier with a 3G plan. But, as a young student myself, I admit I do not get many important e-mails. You can check that at home because you really don't need that service all the time. Texting, however, is very popular in middle schools, as I know (I'm in middle school too!), and you can do that without the Internet.
Third, although this does not apply to me, many 3G plans have a data limit.
Whenever you surf the Internet on a limited 3G plan, you are basically taking away from the amount of data in storage assigned to your phone. After you use that up, anything over the limit will cost extra money.
My friend once accumulated $50 in fees, and she was so upset, as I would be too! Keeping track of the data in a plan is a lot of work, and not worth the money that you spend.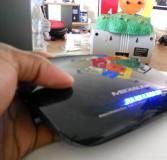 Our router provides Internet access through Wi-Fi so I don't need to use my 3G plan in the house.
3G costs!
Finally, we have to remember the costs of a 3G plan. We wish everything
could be free
, but sadly it is not.
According to Shereen, what do kids her age spend the most time doing on their phones?
E-mail
Conference calls
Txt
Prank calls
For me, the cost is like a shadow above me. Whenever I want to buy something, my parents will remind me of the cost of my 3G plan, and I'm not able to buy anything.
Since it continually costs money every single month, it is such a rip-off. Phone carriers are overpricing plans like these and we fall for it because we "need" it. I think most people just want a 3G plan because the companies make their commercials so enticing that we want to be like the people in them. Commercials may be annoying, but they really compel people to buy things.
Some people do use 3G plans for important things that are easily justifiable, like offices that distribute Blackberries for work-related purposes. However, others find a 3G plan "cool," and don't truly need it, as mentioned before.
Making a Decision
In a nutshell, 3G plans are great and convenient, but they are so overpriced and heavily marketed. It may seem like hypocrisy, as I'm discouraging buying something that I own, but from personal experience I believe other things are more useful.

True or False: Although famous for being on the $20 bill, Andrew Jackson hated paper money. Click Andrew's head for the answer.
TRUE: Jackson trusted only gold and silver as currency, having taken a substantial financial hit once from devalued paper notes.
Tweet