En Garde!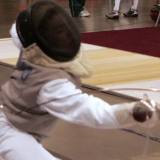 Attack
Recreational or Competitive?
I have met fencers from ages 6 through 80. Most clubs welcome all different levels of expertise and intensity.
Recreational – Recreational fencing is usually fenced "dry," meaning without any electric equipment. It is a great way to keep in shape and fine tune your reflexes and muscles.
Competitive –
Competitive fencing uses electric equipment, and requires a more
intensive training
. Fencers must also wear body cords, mask cords (sabre) and lames (foil and sabre).
How do you train your mind in fencing?
Focus on your breath
Describe your response
to a situation
Tie a tight rope
around your head
Costs
Fencing is fun, but it is also quite expensive.
Club Memberships—
Membership costs range from $70 to $200 per month. It depends on how often classes are held and how often payments are due. Look for clubs in your area and try to find one with a reasonable price.
A much cheaper alternative to joining a private club is to find a few friends and
start your own club
at your school or at a local community center. This takes some organizing, but it eliminates membership costs.
Gear—Fencing gear can be quite expensive, and some components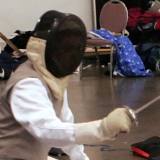 What kind of gear will you need to wear?Retailers Sell Gear Online

I mentioned that almost all fencing retailers sell gear exclusively online. Here are a few examples:

Close

break often, but the gear is needed to make sure you stay safe. After all, you're playing with metal swords!

Beginners can find starter kits for around $120. A kit like this will last for a year or two for most beginner fencers. Almost all fencing retailers sell gear exclusively online.

If you decide to join a club you may be able to borrow much of the equipment, eliminating that cost.

Besides

what you wear

, you'll need

other equipment

: blades, weapons, body cords, and repair tools.
Get Involved!
Whether it's to just try playing with real swords or because you like the strategy of the sport, give fencing a try.
What started out for me as a cool hobby grew into a passion, and I hope it will with you too.
Seek out a local club or start your own, and soon you will be turning to everyone around you saying, "En Garde!" inviting them to fence with you.En Garde!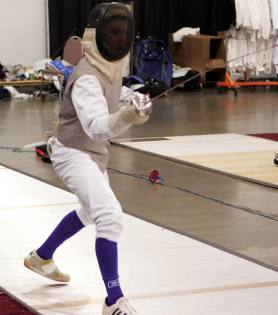 "En Garde" is French for "On Guard."
Close

True or False: Andrew Jackson's pet parrot wasn't allowed to attend Jackson's funeral. Click Andrew's head for the answer.
TRUE: People couldn't keep the parrot from swearing.
Tweet