En Garde!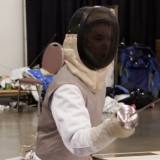 This is fencing as I know it!Fence. As soon as this word leaves the referee's mouth, I lunge forward with all my might. I'm straining to reach my rapidly retreating opponent while at the same time madly circling my blade around his to avoid the block.
Then, I feel the touch. Just as my front foot reaches the ground, the tip of my blade lands squarely in the middle of my opponent's chest—a fraction of a second before time expires.
I throw off my mask in exhilaration and shake hands with my opponent before returning to the high fives and pats on the back from my teammates. This is fencing as I know it.
Swashbuckling?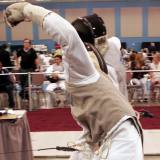 The more I learn about fencing, the more I like the action.
When many people think of fencing they think of swashbuckling pirates, or the Three Musketeers, fighting to the death with mustachioed villains. Before I started fencing I always thought of fencing as the acrobatic stunts performed by the hero in one of my favorite movies, "The Mask of Zorro." In fact, fencing today is a fun and safe sport that is gaining popularity across the country. I started fencing at a club in New York City. I was at first
attracted to the sport
because I had recently seen Zorro and liked the idea of playing with swords.
I soon realized that there was much more to fencing than I thought, and the more I learned about it, the more I liked it.
Today
I have continued to fence (even after moving to a different state), and now I often compete in local, regional, and national tournaments.
I fence for eight to twelve hours a week practicing footwork, bladework, agility, and reflex drills. Fencing requires a lot of strategy and tactics, so I also have to
train my mind
.
After high school, I plan on fencing in college, possibly at an NCAA Division III school. Whatever happens, I plan on continuing to work hard at fencing to improve my skills and ability.
There are three types of modern fencing...
Tweet