Gifts That Don't Cost Money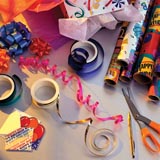 You can design your own wrapping paper.
Special handmade gifts
Gift cards and wrapping paper
Carve a simple design into a potato half or a block of wood. Put printing ink on waxed paper, and press the design gently on the ink.
Then, press the potato or wood design straight down on a piece of smooth paper. Try other vegetables, pinecones, and other objects from nature to create unique printing designs.
Picture note cads

Glue and/or copy school or family pictures to colored paper to create note cards. Use colored pencils to add special effects—like giving your sister blue hair.
Make the pictures stick by using craft glue and decoupage sealer (available at craft shops under various names, such as "Mod Podge").
When deciding on a gift for a friend, the first thing you should think of is?
Your friend's interests
The cost of the gift
Your interests
Which bus to take to the mall
Button clothing, bracelets and Jewelry
Sew colorful buttons to elastic, hats, and clothing.
Make rings out of old buttons with pipe cleaners.
Use paint pens to add items like leaves, stems, and teardrops to clothing.
Bedazzling Beads
Make beads of all shapes and sizes for jewelry with this easy Magic Clay recipe.
To make individual beads, tear off a piece of clay about the size of a large marble. Shape the bead to your liking, and create holes for stringing. Lay the beads on a foil-covered cookie sheet to air dry.
The beads will harden in about six hours. Decorate with paint, using a toothpick or a very small brush. Or add food coloring to the mix before drying to create attractive marbling patterns.
Beautiful plants
Grow plants, flowers, and vegetables from seeds or cuttings to give as gifts. Decorate clay pots with paints or markers for a bright look.
Special things you can do
Wash your parent's car by hand, inside and out.
Organize a busy person's desk and/or work area to his or her liking.
Cook chicken noodle soup from scratch for someone close to you.
Create coupons for your parents offering to watch your brother or sister for free.
Clean the garage, attic, or basement for a relative.
More gift ideas
For more gift ideas, look for these books at your library:

True or False: Andrew Jackson was referred to as a 'Jackass' during his 1828 election campaign. Click Andrew's head for the answer.
TRUE: In fact Jackson was quite fond of the nickname and used it as his symbol for awhile. It later became the symbol of the Democratic Party.
"Making Things: The Handbook of Creative Discovery," by Ann Sayre Wisemann
"More Incredibly Awesome Crafts for Kids," by Better Homes and Gardens
"Making Cents: Every Kids Guide to Money: How To Make it, What To Do With it," by Elizabeth Wilkinson
"50 Rainy Day Activities," by Fiona Watt
Tweet