4-H--It's For Everyone!
What does 4-H stand for?

Do you think you have to live on a farm to belong to 4-H? Think again.
When he was in 4th grade, Ian was president of his 4-H club in Lexington, Kentucky, and that's no farming community!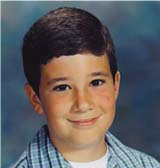 "It doesn't matter where you live!"
—Ian

Ian says it doesn't matter whether you live on a farm or in a small town, the suburbs or a big city.
4-H is for kids everywhere!
Count the ways
When Ian joined 4-H, it was a program for older kids called 4-H School Enrichment. This kind of program gives kids in 4th through 6th grade a chance to do projects right in their school.
Ian liked leaving his classroom twice a week for 4-H. Imagine being able to watch eggs turn into baby chickens (chick embryology)!
Ian watched the eggs in another teacher's classroom. He says the teacher "had the eggs in a cart, and we took it around to all the other classrooms."

Make your own rocket!

Some other things 4-H kids learn about are gardening, entomology (bugs!) and model rocketry. Ian made a model rocket out of—guess what? Toilet paper rolls! It was about a foot long, and he colored it with markers.
"When we showed our rockets to the other kids, mine flew for about two seconds, then fell," says Ian. "I didn't know at that time that cardboard wings were too heavy. Another kid made it like a paper airplane and it flew real well."

Ian has fun at the beach with his sister.

4-H clubs are older than your parents!
4-H is more than 100 years old. It started in 1902 by people who wanted to connect school to country life. There were no cars then, and country life was just about everyone's life.
Today, 4-H kids plan their own fun learning activities. They do community service, take tours and trips, and have special events of many kinds. Club members create projects on topics they want to learn about.
Volunteers help the kids. Some of the volunteers are adults and some are in high school. Here are the ways Ian continues to volunteer in his community:
Helping Food For Families, a Thanksgiving project;
Donating his old bike to the Salvation Army;
Helping gather presents for kids who have less, at Christmas.
4-H kids use just about any topic for their projects...
Tweet