Siao Ting's New Year
New Year's Day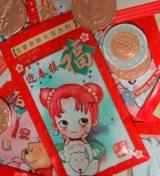 Red envelopes mean it's not just another day!
On New Year's Day, after Siao Ting changes into her cheongsam, she walks to the living room where her parents are waiting for her.
She greets her parents in the traditional way, her hands clasped in front of her as if in prayer.
She then kneels in front of them to show her respect and offers them four tangerines in exchange for a red envelope called a hong-bow.
Outside, the streets are buzzing with activity as everyone hurries to visit their neighbors, friends and relatives.
The air smells of incense and smoke as people pay respect to the gods and burn paper money for their ancestors.
Siao Ting and her family pay respect to their living elders by visiting the extended family to exchange good wishes of "gong xi fa cai" (gong see fut tsai) which means congratulations and prosperity.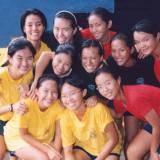 Back to school and back to track!
At her grandparents' house, Siao Ting eats a sweet dessert called yuan seow (you-an see-ow). It is made up of numerous sticky balls in a transparent liquid. This represents the full moon and the wish for a complete family.
Siao Ting and her family stay for three days, then it's back to school!
Stash the Cash!
The fun isn't over! Siao Ting is excited about opening the 15 red gift packets she's collected! She has worked hard to collect red packets from everyone, including her married aunts and uncles as well as from her friends' parents!
Most of the red packets contain four dollars. But what a surprise! Her parents have given her $80. Her grandparents have given her $20. Altogether she receives more than $200 in New Year money!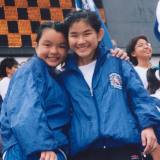 "How important it is to save for a rainy day!"
—Siao Ting.
"My mother saved from a young age and this helped to pay for her college tuition," says Siao Ting. "I used to be more of a spendthrift. Now I understand how important it is to save for a rainy day!"
On a normal school day Siao Ting receives five dollars in pocket money. After lunch and break time, she usually has a dollar left over. She drops this dollar into her piggy bank.
"Once you start saving it really isn't that difficult," says Siao Ting. "Saving a little a day goes a long way. My piggy bank is already three quarters full!"
Time to slow down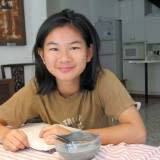 It's time for Siao Ting to get back to her books.
By the fifteenth day, all the red envelopes have been distributed and received. The Chinese New Year festivities wind down to a quiet end with the lantern day festival.
Children and adults walk around the neighborhood while holding lanterns. The lanterns are colorful and come in many shapes! Some are shaped like butterflies, fruits and dragons!
Siao Ting and her friends link arms under the full moon. They skip and sing traditional Chinese songs to wish each other luck during the upcoming New Year. They agree that Chinese New Year is by far their favorite holiday!

True or False: Andrew Jackson was the first president to increase the national debt. Click Andrew's head for the answer.
FALSE: Jackson is the only president to ever pay off the national debt. Today the national debt is more than ten trillion dollars.
Tweet