Scouting: How a Tiger Becomes an Eagle
Facing the board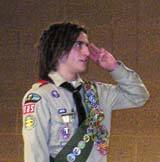 The Eagle Award ceremony is a big deal!
When the scout completes all the requirements, he still has one more step: a board of review.
The candidate goes in front of a panel of adults, mostly leaders from other Boy Scout troops.
The panel questions the candidate about his experience in Scouts, his Eagle Project and his plans for the future.
The scout is excused from the room and the panel discusses whether he is worthy of the Eagle award.
Sitting in the hallway waiting to hear my destiny was nerve racking because some boys are denied the award. I was so happy when I was approved to receive my Eagle Scout Award.
Making me who I am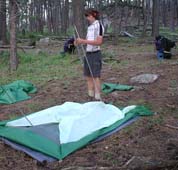 Our tent is like a second home.
If anyone who's not in scouts says they've done that much between fifth grade and twelfth grade, I ask them, "why weren't you in Boy Scouts?"
Looking back on my years of scouting, I realize Boy Scouts made me who I am. Scouting taught me things I couldn't learn anywhere else.
I learned to work for the things I want, and to make sacrifices. Having fifth and sixth graders around at meetings and camping trips has taught me patience and leadership.
I learned how to work with other scouts to survive in the wilderness and in the real world. I've experienced more in my time as a scout than some people experience in their entire lives.
In addition to the things I learned and my experiences, the friends I made through scouting are irreplaceable.
The only thing more fun then sailing for a week or hiking in the mountains is doing all of that with your closest friends.

True or False: Andrew Jackson was deathly afraid traveling and never rode on a train. Click Andrew's head for the answer.
FALSE: Jackson was the first president to ride on a train!
Tweet