The Perfect Design: A Model RocketThat Flies
Launch
Click here to see what happened.
The big launch took place during the 4-H rocketry competition. That's where 4-H we show the judges whether our rockets can fly or not.
We get awards depending on how well our rockets fly.
First came the ground test, where the judge observed my paint job and how straight the fins were.
No problem—my rocket didn't have traditional-style fins.
Then it was time to launch my rocket. I inserted an engine and discovered it was not tight enough, so I wrapped some tape around it.
After making sure nothing was wrong, I put the rocket up on the launch pad, turned the safety key, and counted down: 5...4...3...2...1...
Check out NASA's beginner's guide to building model rockets.
My rocket flew very well, so I got perfect score and a blue ribbon!
I dropped off my rocket at the 4-H fair and thought that that was that, but when I returned during the fair, I found something next to my rocket—a merit award!
I had never earned a 4-H Merit Award before, and was definitely not expecting one for my first original design.
I was very proud of myself and looked forward to getting to take it home to display.
Try it!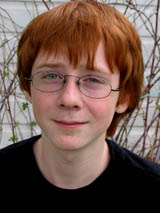 Learn how you can build your own model rocket.


I hope you look at what I have done and decide to try model rocketry.
Many people have become involved in rocketry through 4-H, scouting, science fairs, and rocketry clubs.
As for me—you can be sure that I'll keep on building rockets with 4-H.
Happy flying!

True or False: Andrew Jackson was quite the mediator when he was growing up. He preferred to solve problems and disagreements through words. Click Andrew's head for the answer.
FALSE: A majority of Jackson's mediating was done with his fists. He would get into fights at the slightest provocation. He even entered a duel with Charles Dickinson that left a bullet in Jackson's chest and killed Dickinson.
Tweet