The Perfect Design: A Model RocketThat Flies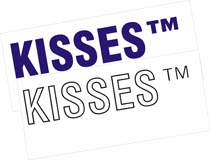 This is what the stencil for putting the name "Kisses" on my rocket looked like.
From design to assembly
It's made with:
After putting the soda to good use, I cut off the top of the bottle.
Then I sanded down the grooves where the cap had been to create a more aerodynamic shape, and used epoxy to glue the body tube into the hole.
Once the epoxy dried, I glued one end of the elastic cord inside the tube where the nosecone would go.
I tied the other end of the cord to the nosecone, and in the middle tied a piece of flagging tape. Flagging tape is not tape at all; it's a brightly colored reflective ribbon.
I painted the flagging tape to look like the paper coming out of a real chocolate kiss. This acted as a streamer, slowing my rocket's descent.
Next, I painted the rocket with silver spray paint that cost about $4. Finally, I used an on-line simulator to find the right engine to use.
Pre-launch test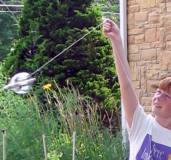 The string test is a lot of fun, and a big relief when it works!
Before I would be allowed to launch an original design rocket in competition, I had to prove its stability.
To do this I had to use a string test, where I attached a string at the rocket's center of gravity and swung it around me.
The center of gravity is the point where an object balances under gravity. The key is to have the air flowing around the rocket correct any errors in the direction the nose is pointing.
Otherwise, the rocket will just spin around wildly. My rocket met these basic safety requirements, so it passed with flying colors.
The big launch took place during the 4-H rocketry competition...
Tweet