The Perfect Design: A Model RocketThat Flies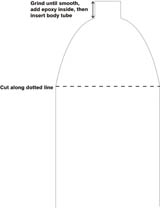 Drink the pop, add one-half ounce of gunpowder, and read the safety codes.
This is a story of a boy, a pop bottle, and one-half ounce of gunpowder.
It's a story of a model rocket: an original design that I created with my dad.
This is the cue for you to ask, "What is model rocketry?"
Try this at home
Model rockets are smaller forms of the rockets that marked the Space Age. Model rocketry was born in 1957 as a safer alternative to the home-built rockets that many teenagers were experimenting with.
Those rockets were unsafe: the engines contained dangerous mixtures that often made them resemble pipe bombs.
Model rockets, on the other hand, comply with a safety code. They use only lightweight materials—they weigh under fifty-three ounces—and commercial engines.
Kits are great to use, and can be very challenging. But for my particular rocket, I decided to create an original design.
My perfect design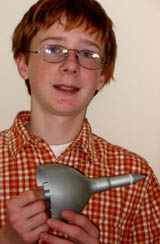 My perfect design.
I had participated in 4-H rocketry for several years and wanted to come up with a unique design that would both fly and impress.
I considered several shapes, including a pencil and a flying saucer. Finally, I settled on the perfect design, a chocolate "kiss."
At first, this idea might seem far-fetched, but the familiar squat, pointed shape is reasonably aerodynamic.
The point cuts through the air, and the bottom of the bell acts as the fins.
The only major disadvantage is that the drag from the large bell requires a higher thrust engine.
This particular rocket is one of the cheapest I've made...
Tweet