Making Memories: One Game at a Time
Watch out!
I'm the youngest, and I love to see how well I can do against the older people in my family.
When we play Fictionary my oldest brother, Erik, always comes up with funny definitions that make up a long story—and they are very clever.
Another time during Team Pictionary we had to be really careful about running around. Earlier that morning my dad had slipped and fallen with a full plate of food!
They all want to play
I've told my friends about our family games and they want to play too!
My friends and I especially like to play Killer Winker at sleepovers when it's dark!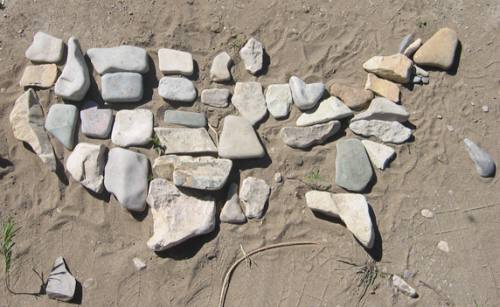 In this game, we look for stones that resemble states in the U.S. and
try to get all 50 states.
If I had to choose my favorite game out of these I would choose Team Pictionary because it's speedy and challenging.
What's a 'Killer Winker'?
A woman who wears too much mascara
A murderer who winks
A game that's played in the dark
A new definition of the CBS eye
I bet you'll have a great time playing these games. You'll create good memories, compete, and maybe start a family tradition. And—who knows—you might develop a new game!
Use the comment box below to tell everyone about games you like to play with family and friends.

True or False: Andrew Jackson carried two bullets lodged in his body from duels. Click Andrew's head for the answer.
TRUE: Jackson had a bullet lodged in his chest from an 1806 duel with Charles Dickinson, and another in his shoulder from an 1813 shootout with politician Thomas Hart Benton and his brother Jesse Benton. The bullet in his shoulder was later removed in 1832 while Jackson was president, vastly improving his health, leading some to suspect he'd been suffering from lead poisoning.
Tweet