Killer Winker
If you have ever played Frogger, then you already have a feel for this game. This game is especially fun to play at night!
What you need
Playing cards
At least five players
A place where you can dim the lights
How to play
Knowing that you could be next is a pretty scary thing, but this game makes it fun! You get to sit back and wait to see who will be next.
Play at night with the lights dimmed—not off. If it's too dark no one will be able to see.
Everyone sits in a circle so you can see each other's eyes. You need at least five people to play.
Take as many cards out of the deck as people you have playing. Make sure there is one ace in the group of cards you take out of the deck.
Mix all the cards up and put them in the middle so everyone can grab one. Everyone looks at their cards without letting anyone else see.
After everyone has seen their cards, they put them back into the middle. The person who gets the ace is the killer and everyone else is a possible victim. No one knows who the killer is—except the killer.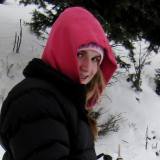 Watch out!
Now everyone sits in the circle with the lights dimmed. Someone says, "Let the games begin!" and everyone is silent.
Look at each other's eyes, making sure not to blink. Whenever she wants, the killer will wink at a victim. The person who gets winked at waits, counts to three silently, and then dies. (This helps the killer hide her tracks.)
Dying is the fun part because you can make a lot of noise! After you get killed you can't tell anyone who the killer is. You are just dead.
After someone dies, the people left alive can start guessing who the killer is. However, if someone guesses the killer and is wrong, the person who guessed incorrectly dies. The person wrongly accused can continue playing until dying or making a guess of her own.
After someone guesses the killer or everyone but the killer is dead, the game is over. You can play as many rounds as you want. It's really fun
Tweet