Fictionary
Quagga—when a person gets mixed up and starts to act like a penguin, and tries to talk like a penguin, and says Quagga!
That definition is from one of my favorite family games, Fictionary.
What you need
A dictionary
Paper
Pencils or pens
Friends
Somewhere to play
How to play
This is a fun game that gets your creative juices moving. You get to create your own definitions to words that you've never heard of before.
Which definition of 'Quagga' is actually the real definition?
An extinct kind of penguin
An extinct kind of zebra
A zebra that acts like a penguin
A person who thinks they're a zebra
A penguin that acts like a zebra
Hearing other people's definitions can be very funny because people can be as silly as they want to be!
My family has 12 people, but all you really need to play are three people. However, the more people the more challenging!
Give every player a pen or pencil and a piece of paper. Give one person the dictionary. That person is called The Picker. The Picker looks up an unusual word that no one else knows.
Make sure no one knows the word!
Each player writes the word down. Each player also writes a made-up definition without revealing it to the others.
The made-up definition can be funny or serious. The Picker writes down the real definition of the word on his or her paper.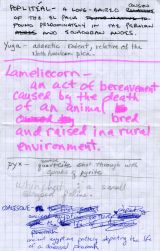 Click the image to see a larger version
Once everyone has written their definitions down, The Picker collects the definitions and mixes them up. Now this is the fun part.
The Picker reads all of the definitions out loud. But no one but The Picker knows which is the real definition!
None of the players reveals whether or not a definition is the real one, when it's read. After the Picker has read everyone's definitions, players guess what the real definition is.
If you made up a definition and someone incorrectly guesses it's the real definition, you get a point.
If a person correctly guesses the real definition, he or she gets a point.
And if no one guesses the real definition, The Picker gets three points.
At the end of a round, write down everyone's total points, pass out more paper, and start over!
You can play as many rounds as you want. In my family, we play 12 rounds so each person has a chance to choose the word. The person with the most points in the end wins.
Tweet