Want to:
Earn some cash in a fun cool way?
Meet new people?
Make new friends?
Learn sales secrets and skills?
Then you should get involved with your local farmer's market!
It started with an idea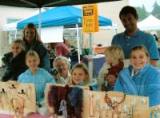 My whole family gets involved with our stand!



I first got involved with the farmer's market when I was thinking about earning some money by selling homemade crafts and jewelry.
I'd walk downtown on Saturday mornings with my family, and visit the different vendors, or sellers, who set up their tables in a vacant parking lot.
People were selling flowers, jewelry, soap, bread, beads, crafts, fresh berries, jars of fresh sweet honey, cheese curds and so much more.
Some mornings they would have cooking demonstrations and you could buy hot pancakes with toppings and sausages. Some times a band would play live music!
It was a wonderful way to spend a Saturday morning. I thought it would be a great way to earn money and to experience being a vendor, so I decided to get involved.

We set up the table so people can try the play dough and gak.



First steps
To get started, I first had to learn about running my own business. Here are some tips on how I first started out:
Work on your goods
I sold homemade soap, lots of homemade jewelry, play dough, gak, scarves, magnets and hair clips. My family and friends helped me all summer.
Set aside some hours every week so you can make and price your goods for the market. Make and use tags or little signs to label them. I used sticker labels.
It is also nice to have is a demonstration table or a sample of what you are selling.
If you use black table cloths on your table, your goods will show up better. You can make a banner for your booth and practice arranging your goods on your table.
Reap the benefits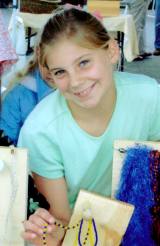 Here I am displaying my hard work!



Just wait until you hear someone say, "Did you make this yourself?" That's the reward!
It's fun seeing people you already know, getting to know new people in the booths next to you and making new friends.
Something that helps to deal with customers is to politely explain to them what you are selling, but only if they ask.
What I enjoy the most is when older people stop and talk to us. It's fun because I can tell which of them have grandchildren and which of them don't.
It's fun to know that you have hard-earned money in your pocket that you can use to buy something that you have wanted for a while. Or, knowing you can afford to buy more supplies—or just saving it.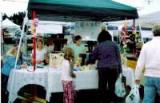 Find a farmer's market in your state!



But sometimes it's fun to walk around and enjoy the sights and smells of the market and buy something there with your money.
You can use the skills you learned in the farmer's market for spending your money wisely, counting and giving back change and dealing with customers.
Who knows, you might run a business when you're an adult too!
by Lydia, age 11, Mount Vernon, WA 323

True or False: During Lincoln's presidency, government-issued paper money was called 'greenbacks' because of the green tint.
Click Abe's head for the answer.
TRUE. The green tint was introduced to discourage photographic counterfeiting. Greenbacks were last issued in 1971.