Tsunami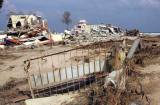 The earthquake and Tsunami had a devastating effect on India: 11,000 dead and 5,000 missing and feared dead.


Noon: it's a new world
That frightening morning was finally over.
All that afternoon and evening the scenes I saw on TV and on the beaches near my house kept running through my mind like repeat telecasts. So much so that the exam the next day didn't matter—it was a disaster!
But as I have learned, there are greater concerns than personal success or failure when a community is in distress.
High alert and feeling low
The city remained on high alert for two days. We weren't allowed to go to the beach or anywhere near the coast.
A lot of my friends living along the beachfront had evacuated and moved into the center part of Chennai, as their houses were flooded. The beaches were totally destroyed.
The Marina Beach was in a pathetic state. The water had entered the city and had swept a lot of bodies along with it. The death toll was rising all along India's southeastern coast. Thousands of people were missing.
We would learn in a few days that 200 people had died in Chennai.
Fortunately for me, all the people I knew were safe. There was panic everywhere. It was a shock to all of us. Such a thing had never happened to us. We couldn't go anywhere without worrying.
They make their living by the sea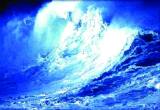 Tsunami brings a gift?


The people who were affected the most were the people who earn a living along the seashore—the vendors and the fishermen.
At the beaches, there are vendors who sell anything from sugarcane juice to peanut salad. They sell shell jewelry, and items of clothing. Some of my favorites are bajjis (slices of potato, banana, onion, or whole chilies soaked in gram batter and deep fried in oil).
Around Chennai there is a big fishing community. Along the coast, where there is no beach, there are fishing hamlets hardly 50 meters (a little over 50 yards) away from the sea.
Over 500 families live in these fishing hamlets. Their homes were washed away; a lot of their family members died. They didn't even know whether some of their relatives were dead or alive.
Suddenly they had no money, no food, no work ... nothing. In one morning, they were starved, orphaned, shattered, and confused. They were tired.
Want to help? Charity Navigator helps you find the right charity for your donation.


Relief
Relief operations started immediately. Donations and relief materials poured in from all over the country. People lived huddled in relief camps.
On the days immediately following the tsunami my family and I worked in various relief camps distributing food, milk, biscuits, drinking water and basic medicines.
Many celebrities and organizations adopted villages and are providing relief. My school has an Interact club, which is affiliated with the Rotary club. We collected donations of all sorts. I donated some clothes and money.
Chennai survives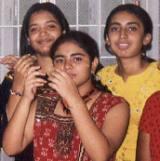 My friends and I live in a new world.


The plight of the children who escaped the tsunami is pathetic. Now that they have lost their families, they don't know what will happen. The scenes that met our eyes there were heart-wrenching. Never ever do I want to see such sights again!
The survivors are slowly getting used to the drastic changes that have taken place in their lives. Life in Chennai is slowly coming back to normal.
Christmas ended tragically and the New Year dawned with horror and fear. Personally, the entire event has shaken me up very badly. My belief about the "safety of living" in Chennai is shattered.
The beaches have been cleaned. We are allowed to go to the beaches again, but not many people take a dip in the sea—none of us know what will happen and when.

True or False: Benjamin Franklin, ever obsessed with electricity, once tried killing his Christmas turkey with electrical shock. Click Ben's head for the answer.
TRUE: Unfortunately for Franklin, his body made contact with the current and shocked himself too. Unlike the turkey, he survived.
Tweet