Marketing Madness: Don't Be Manipulated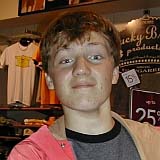 Buy different and save trees, water and energy.
Word-of-mouth
One of the hottest topics among marketers is word-of-mouth advertising.
Teenagers are more likely to trust information they hear from other people they know, like friends, parents, or classmates.
"When it comes to information, research shows that through the years people have come to rely more on information from other people than advertisements," says Berry.
Businesses know their sales will grow if people are talking about their products and recommending them to their friends.
How do rewards cards gather information about your purchases?
Color-coded strips match store templates.
Tiny cameras record your activities.
Swiping turns on TV monitors.
Magnetic strips provide your purchase details.
Apple successfully incorporates word of mouth into its branding strategy for products like the iPhone and the iPad.
Make sense of the messages
The good thing about word-of-mouth marketing is that people talk about what makes a product good and bad:
People you know can tell you whether something is a waste of your money or worth the price.
Your friends and family can answer your questions and help you cut through the advertising hype.
You can't ask a TV commercial or billboard for more information. The people who make those ads only want to show you one point of view—theirs.
Check your buying smarts. Take the Wise Buys quiz.
"If you hear something and you're not sure about it, ask questions, talk about it with your parents and friends," said Berry.
That's how teenagers can outsmart the advertisers.

True or False: Benjamin Franklin was the only Founding Father to sign all five documents that pertain to American Independence. Click Ben's head for the answer.
TRUE: Franklin signed the Declaration of Independence, the Treaty of Amity and Commerce with France, the Treaty of Alliance with France, the Treaty of Peace with Great Britain and the Constitution of the United States of America.
Tweet
American Heritage Federal Credit Union
What makes credit unions so great? Members like you.

Every dollar you invest in your credit union earns you money while other members borrow it.

When you're ready for a loan, other members' savings will be there to help you out at the lowest possible cost.