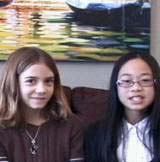 Anna and Hayley share the secret to how to drum up business for your money-making projects.



How to advertise
One way to advertise is to tie helium-filled balloons to your stand. People will see them floating above the crowd. You can write "ICE COLD LEMONADE!" on the balloons with markers.
Ask friends to stand on street corners with signs. You can make your own colorful signs advertising your product, price, and location.
Track your business
Write your expenses, earnings, and the hours you worked in a business journal every day.
This is basic accounting. Keep track of your business and figure out if it's worth your while.
If this sounds like a huge project, think about Ryan. He started with a lemonade stand in elementary school, and then developed a sno-kone traveling stand. Now Ryan has a thriving business!

True or False: Abraham Lincoln was the first president to have a beard.
Click Abe's head for the answer.
TRUE: Lincoln was the 16th President of the US but the first to have a beard while in office. He grew it after an 11-year-old girl suggested that he should.