Advance Your Placement
Use this site to find out about your college's AP credit policy.

One way to save: lighter load
As a college student Claire has been able to take a lighter course load for a few semesters. This has given her ample time to find a job.
Money is tight in college for many students, but Claire's extra income has helped her out enormously. She has even had time to undertake a few independent interior design projects for firms around Madison.
"The experience I have gained as a result of my extra time has been amazing. I am now more sure than ever that I have the talent to be a good designer. Plus, it will look great on my resume!"
Another way to save: tuition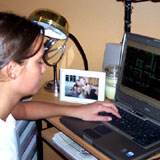 Claire spends a little bit of time at the computer.

Claire's school, the University of Wisconsin, has a set rate each semester for tuition. She won't save on tuition unless she gained enough AP credits to graduate early.
It's possible for some students to do this. Graduating one semester early can save thousands of dollars!
Unlike the University of Wisconsin, most technical schools, community colleges and some 4-year schools charge tuition by the credit.
Compare the cost per credit to the cost of the AP test. If a technical school charges $100/credit, every 3-credit course you can avoid saves $218!
Make your efforts count
According to the Advanced Placement Program, 90 percent of accredited colleges and universities accept AP courses. With an AP exam score of 3 or better (out of a total of 5), students can choose to take:
College credit (3-5 credits)
Advanced placement
Both
If you are taking many AP courses, choose which tests are worth the $82. That's exactly what Claire did. "Since my whole schedule was AP classes I knew I couldn't possible feel prepared enough to take tons of tests. Plus that's a lot of money! I just focused on three, that was enough for me."
Sometimes you may not have a choice. Depending on your school district or teacher, you may be required to take the examination as part of your final grade. If you choose to take a test, and you do not score a 3 or higher, there is no penalty for trying.
About two-thirds of all test takers achieve this minimum score. Even if you don't, you will have still gained a wealth of knowledge at the college level...
Tweet