How to Own A Pet
When I was five, I wanted a hamster more than anything else. When my parents gave me a cage and said I could go pick one out from the store, I was so happy—I couldn't wait!
When I got Stella, my lovebird, I thought it was going to be easy. I was wrong. Some parts were easy—but not all.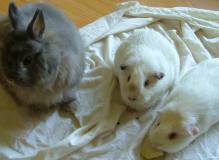 Getting a pet? Here are some tips from other websites
Pets take work
It takes a lot of time to own a pet. They need:
Food and water everyday;
Attention:
Care.
Caring for a pet can include regular nail, claw or wing clippings, fur combing, and cage cleaning. All of these tasks take time.
Having a pet takes patience because no matter what kind of animal it is, there is always some sort of demand. Pets can be very trying sometimes.
How much is that doggy in the window?
Pet ownership takes money. Costs range depending on the type of pet you have, and include:
Food;
Toys;
Cage;
Veterinary care;
Grooming;
Bedding or litter.
Which pet?
If you've decided you have enough time, patience and money to own a pet, you're ready to decide which kind of pet you want. Here are some factors to consider:
What kind of companion do you want? One that is distant or one that keeps close to you? Go to the library or ask questions at a local pet store to find out more about the pet.
How much time can you spend? Educate yourself before getting any pet. Take into account the amount of time it takes to care for the pet you are considering.
How much money can you spend? Look into costs for the pet you want. Research the needs of that pet, and the related costs.
What's unique about your pet? Knowing what is good and bad for your animal is essential. There are many things that can be bad for your animal.
Diet is an essential part of your pet's life...
Tweet