Painting a Whole New Future--Without Oil?
And my way of life
I'm also changing my lifestyle:
Conserving my gas
Not using as much energy and water
This past Christmas, I did little things to conserve resources, like wrapping presents in newspaper. I'm starting to prepare for peak oil, so it won't hit me as hard.
You could say that my whole view of the world has changed. I've learned that everything isn't as it always appears.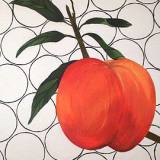 See samples of Jess' art.


Get the word out
I've been talking to my close friends and my mom, telling them all about what I've learned in researching this paper.
You might wonder what you can do differently. There are lots of things:
Ride your bike
Carpool
Hang laundry outside to dry
Turn down the heat or air conditioning
Use less plastic: choose glass, ceramic, and cloth instead
You can go on living every day without thinking about oil, but it involves you—our generation—and isn't going to go away. This issue is always going to be a part of me because it's part of my future.
And one day I will use my art to make political statements. The more I can say it visually, the better.

True or False: Benjamin Franklin, despite being involved in numerous areas of society, never got involved in public health. Click Ben's head for the answer.
FALSE: Franklin was instrumental in founding the first hospital in America.
Tweet