Conquer Shyness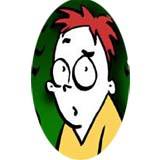 Wallflowers stand out!
Halfway through your math class, your worst fear becomes reality. The teacher asks you to work a problem on the board in front of the whole class.
You know the math, but— in front of the entire class?
Your insides are churning, your face is reddening, and your feet feel like they're cemented to the floor.
Sound familiar?
You're not alone. Shyness is the anxiety you feel with strangers or people you want to impress.
Studies show that about four in ten Americans struggle with shyness. And most individuals experience anxiety in one form or another.
The greatest fear in this country is making a speech. People would rather die than give a speech—dying is the second most common fear!
Shy people are often thought of as snobby or aloof because they don't participate. And if you don't speak up in class, teachers could mistake shyness for not knowing your schoolwork.
Good news about shyness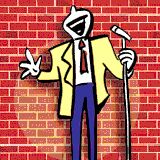 Performers were often shy in school.
A common trait among successful comedians and performers is that they were shy in school.
They overcame shyness, then dealt with stage fright, and eventually became comfortable in front of large audiences.
You, too, can overcome shyness. Yes, it might seem a little scary at first, but you can't learn to swim if you don't get wet.
Besides, if you're shy now, maybe you'll be famous tomorrow!
Increase your comfort zone
Be unique. Don't try to be someone you're not. Sure, you'll follow the crowd to some extent, but retain your individuality.
Wear the clothes you want to wear, the hairstyle that's you, and maintain your own style. People will like you for who you are.
Figure out who you are. Where you live and what you look like isn't important. Find out what you're good at and what you like to do. Then go out and do something.
Interacting with others and getting positive feedback will build your confidence and self-esteem over time.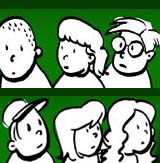 Shy people, you're not alone!
Get to know others. Make new friends among your classmates who are shy, too. Break the ice with a smile or a nod. If the person seems receptive, ask a question.
People generally like to talk about themselves. Compliment someone on his or her clothes, or a good test score. You'll find common interests when you talk to, and are sincerely interested in others.
Join the club. Increase the odds of finding friends with common interests by putting yourself where you'll meet them.
Join the photography club, the sports team, or the drama club.
What?
Yes, if you don't feel up to stepping out on the stage, the drama club always needs people behind the scenes.
What's one way to make new friends?
Smile first to break the ice
Always take center stage
Look your best
Tell them how great you are
And rubbing shoulders with actors will show you that everyone deals with self-confidence at one time or another.
Happiness isn't always on center stage
Maybe you won't ever be the classmate voted most likely to succeed or the one to take center stage.
But, before you know it, you'll find yourself comfortable with others and a happier person for having overcome your shyness.

True or False: Andrew Jackson held parties at the White House and opened them to the public. Click Andrew's head for the answer.
TRUE: Jackson was known for allowing the public to attend his White House parties.
Tweet