Maya Lin Remembers

"...this memorial is for those who have died, and for us to remember them."
—Maya Lin
Maya Lin is a small woman who is huge in the minds and hearts of many Americans. Even if most people don't know who she is.
Look around
That big black wall in Washington D.C. with thousands of names etched on it? Lin created that.
It's the Vietnam Veterans Memorial, honoring the heroes of the Vietnam War.
Maya Lin was 21 years old when she designed the Wall.
As a young woman, she's played a big part in changing the way we remember the Vietnam War. Here's how she did it.
It started with a contest
How many names are on the wall?
When Lin was a senior in college, she entered a contest to design a national memorial for the Vietnam War. So did more than 1,400 other people!
Lin worked hard for months. She walked around the grounds for the memorial in Washington, D.C., studying every detail.
Then she spent two weeks drawing a design that recognized the veterans of the Vietnam War by individual name.
Her hard work paid off—she won the contest!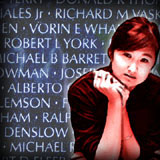 Watch Maya Lin transform an urban park in Grand Rapids, Mich.
She turns war into life
Why did she use two, 246-foot long black granite walls with names inscribed on them?
Lin says, "It was to help the veterans coming back, to help their families, to talk to people 100 years from now who will know nothing about the war and nobody on that wall."
"To me, it's a very simple notion," she says. "You cannot ever forget that war is not just a victory or loss. It's really about individual lives."
Many people fought against the design because it wasn't traditional. The two walls seem to gash the earth. Lin says, "I felt a memorial should be honest about the reality of war, and be for the people who gave their lives."
What was the controversy?
But other people fought for the design, and finally the memorial was built.
Today, people like the Wall. We finally have a place to remember the thousands of men and women who died in Vietnam.
In fact, travelers from around the world to come see the Wall and touch the names etched on the stone.
They leave flowers and mementos to remember their loved ones. Some take pencil rubbings of their loved ones' names and keep them as special memories.
Once completed, the Wall turned on Maya Lin's imagination...
Tweet