Dog in the Ring!

Author Matt Brown is walking down and back with Wells.
It's five o'clock on a Saturday morning. Most people are still asleep.
But many special living beings are getting into cars full of gear, and hustling out the door to travel—sometimes long distances—to fairgrounds and hotels.
Excited, they arrive and meet familiar faces (not all of which are human, mind you.) With their best friends at their side and numbers tied to their arms, they wait in line to do what looks to be a dance.
"Seven, Nineteen, and Twenty-one, please come in." They enter and listen to a voice call off the steps: "Around once." "Down and back, please." "Around again and stop there."
What causes this strange activity? It's a love for dogs and dog shows.
First the basics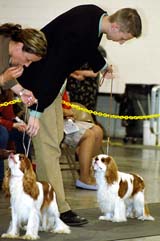 Time to line up, Wells!
Dog shows reward the best dogs. They are called "conformation shows" because dogs are judged by how well they conform to an ideal standard. (How well they match their breeds' traits.)
At the end of every dog show, just one dog is named "Best in Show".
Just one dog? There are more than 150 kinds of dogs (known as breeds) shown in the U.S. Many shows have over 2,000 dogs competing.
Even though dog show judges are trained to compare many dogs, it would be impossible for one person to judge that many.
So they divide the breeds among many judges, and the shows run smoothly. Dogs in the same breed compete first. Then, one dog is named "Best of Breed".
Best of Breed winners then compete in groups of similar breeds.
For example, the Herding Group consists of dogs that have been bred for herding. The Sporting Group is made up of dogs that have been bred for hunting.
The winners of each group compete together for the honor of Best in Show.
Dog owners work hard if they want to do well in dog shows...
Tweet