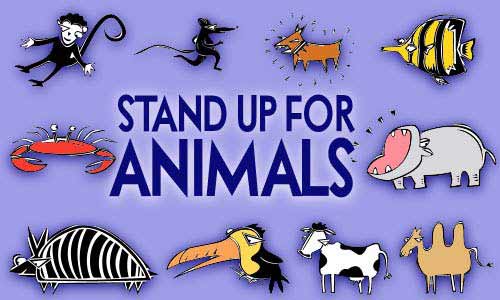 I love animals. I have two dogs at my dadís house. I have another dog, one hamster, two rabbits, and two rats at my momís. I feel good when I donate money to animal organizations. I feel bad for caged animals at the zoo.
I wish for a better world for both animals and people. I believe anyone can help if they want. I want to help, and I hope I can show you why.
Why I think we should help animals
These are some reasons kids should care about animals. We both live in the same world and I think we need to make sure weíre both surviving. Second, I believe animals deserve respect, just like people. Animals have feelings. They have feelings the same reason we do: because they have minds and hearts. Mostly, I think we should help animals because I see them suffer and I feel bad for them.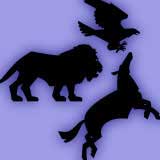 There are many reasons that animals need help today. Pollution and other things people do destroy their natural homes. For example, sometimes people cut down trees to build big, fancy buildings. What about the birds and other forest animals who lived in those woods? They have nowhere to go, no homes.
Some species are being hunted to near extinction, which means that their kind of animal is in danger of disappearing.
Other animals are being used in cruel experiments. Sometimes companies test health and beauty products on rabbits and other small animals.
Finally, some animals are exposed to unfair conditions in zoos and circuses. They might be kept in cages that are too small for them, or they might be beaten during shows. I know it is hard to think about all the ways people are hurting animals. But there are a lot of people who do their best to help.
How you can help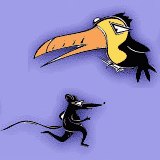 Some groups collect money to buy land for habitat protection, and to fund local education about why and how to help. Some provide safe places, called sanctuaries, for hurt, orphaned, ill, or abused animals. Some people are helping--but we have to work harder.
There are tons of ways to help out. No matter what you like to do, you can help. Some of the things you can do are: giving money, volunteering, adopting an animal at a shelter, and giving money to help a particular animal at a safe place.
If you want to help out nearby, you can:
Call your local humane society. You can find the number in the red business pages in your phone book. Youíll probably be able to help out walking dogs, cleaning cages, or cuddling animals.

Adopt a pet. If itís okay with your family, adopt a friend while also helping a homeless pet by looking at a humane society or rescue group for your pet, instead of a person who breeds animals or a pet store.
Here are some things you can do if you want to help animals everywhere:
There are many ways to make a difference. All you have to do is choose one and do it.
What the groups do with your money
Animals deserve respect, just like people.
If youíre thinking about donating money, youíre probably wondering how much of your donation will actually help the animals.
It depends on what kind of group you give money to. Workers and buildings cost a lot of money. Does the group have lots of workers in many places? Or does it get by mostly with volunteers from your city?
Some other things that money might go to are buying land to use as an animal safe place, buying food for shelter animals, and making fliers and a Web site to advertise the group, in hopes of getting more money.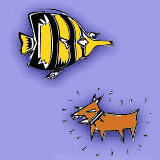 In my mind, all of these things help animals in one way or another. But if you really want to know, try calling the group you want to donate to and ask what they do with donations. Or give money to a specific cause, like feeding an elephant for a day. That way youíll know exactly how your money helps.
Help save the animals
Helping animals is important to me. I hope that you now understand why and know how to help if youíre interested.
Thanks for reading, and good luck helping out. We can make a difference.
by Nola Pastor

True or False: 'Lincoln Logs' were invented by President Abraham Lincoln.
Click Abe's head for the answer.
FALSE: Lincoln Logs were invented by John Lloyd Wright, the son of the famous architect Frank Lloyd Wright, around 1916.