Get the Spirit of Tuskegee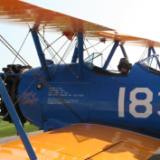 Want to know more about the plane?
I didn't think when I woke up that morning that I would end my day flying in a plane.
Even more incredible is that it wasn't just a regular airplane; it was a PT-13D U.S. Army Air Corps Stearman biplane!
The Tuskegee Institute used this classic plane during World War II for training the first group of African-American pilots to fly for the U.S. military.
Tuskegee Airmen changed history
The African American pilots in the 332nd Fighter Group who fought in World War II were called the "Tuskegee Airmen." This special group of aviators helped change our country's history.
The Tuskegee Airmen were the first African American military aviators in the U.S. armed forces. They trained in Tuskegee, Ala., in 1941 and flew in 1,578 missions usually as bomber escorts.
When I thought about flying...
Tweet