Tired of Games? Make a Movie!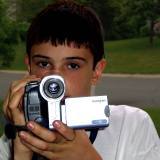 If you want to film a night scene, "Put on night vision."
—Justin
Ready, set, shoot!

To keep it simple, just film it doing do what you did in rehearsals (but try to make fewer mistakes.)
If an actor messes up a line or an action, fix it. Simply rewind, get the actors in the same positions, and film over the mistake.
If you're outside, put the camera in a setting where the sun doesn't make a glare. Or try to find a way to block the sun from hitting the lens directly.
When you're finished, watch what you've filmed and decide if the video is good enough to keep. Then edit it.
Ready to edit
Show me the money.
Plug your USB cord from your camera to the computer so you can capture the video. Now it's time to put all the scenes in order.
Take out some scenes that you don't like. Add sound—like drums for funny scenes and music for dramatic scenes. Be careful to pick
music that's not restricted
.
You can add special effects to any scene you want. For example, slow motion and fast motion are motion effects.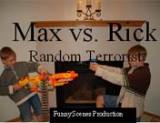 My DVD cases all have a unique cover picture.
You're finished
When you're finished adding special effects and music, it's time to put your movie on a DVD.
First save the file and then copy the file to a blank DVD. When it's all done, write the title on it and make a design for the case.
Make extra copies if you want to copyright it and sell it to more people. I don't copyright my movies, but you could.
Enjoy!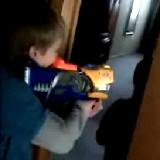 See how I put a movie together.

The amount I pay the actors depends on how much I make, and what they did.Payday
Say we make $20 on a movie. I give:
30% ($6) to the main character;
25% ($5) to the main bad guy;
15% ($3) to split among the guards and extra characters.
But it all depends on how good they do.
I keep 30% ($6) for myself.
Close
When I'm finished selling the first movie, I start on the sequel.
Right now I'm making one where a genius brings back his recent enemies with robotic arts. The main character needs to take them all down once and for all.
I think making movies is very fun and interesting and I think you should try it too.

True or False: True or False? Andrew Jackson joined the military when he was 16-years-old. Click Andrew's head for the answer.
FALSE. Though 16 is a young age, Jackson joined the military when he was 13-years-old to fight the British during the Revolutionary War.
Tweet