Fast Food: Is Bigger Better?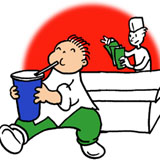 Your money is the target!
Do you have a short lunch break at school and run out in search of a quick sandwich?
In your free time do you look for quick snacks between activities?
Fast food marketers know teenagers spend more money on fast food than anything else—more than on games, clothes, movies or sports.
You can bet they're targeting your pocket money. They want to persuade you to buy the foods they sell, whether that's in your best interest or not.
Value pricing
One way restaurants compete to get your dollar is to offer you larger portions that make you feel like you are getting a deal. You've probably noticed how fast food chains offer items in super-sizes.
Food companies call this "value-marketing." It means encouraging a customer to spend a little extra money to purchase a larger portion. In dollars and cents it's true, you get more when you buy the super-size portion.
But you might be surprised to learn the total cost of eating that extra food!
Value marketing means extra profit
Super sizing is one value-marketing technique that businesses use to increase profits.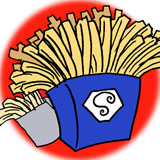 Super sizing: Here's how it works.
Food marketers have a job to do—get customers to spend as much as possible on their products. They use other means besides super-sizing.

A technique called "bundling" gets you to purchase larger sizes and more side orders, even when you're not terribly hungry.
When you see the menu items grouped into meals with names like value meal or combo, that's bundling. Restaurants encourage customers to upgrade their orders by purchasing a bundle containing larger portions and side dishes.
These bundles are more profitable to the company. Fast food value pricing techniques like super-sizing and bundling tempt people into buying and eating too much.
OK, so you feel like you got a good deal. Maybe you did—if eating all those fries would be actually good for you.
You want to join your friends at a fast food place, but you're not very hungry. What do you do?
Who chooses what you eat?
Studies show that portions in the U.S. are about twice as big as they were 20 years ago, and that when people are served more food, most of them eat more food.
Americans are getting fatter, and large portion sizes are partly to blame. When those large portions are made up of foods like hamburgers, fries, and soda pop, they deliver too many fats and calories.
The super-size extra-value meal at a leading fast food restaurant gets you a quarter pound burger with cheese, super-size fries, and a super-size soda for a whopping 1,550 calories! That's about three-quarters of the food you need for a whole day. If you overeat by just 150 calories a day, that can turn into 15 pounds of body fat in one year.
It's not the food marketers' job to choose healthy food for you to eat, or to tell you when to stop eating. That's up to you.
The food choices you make affect how you feel for the next few hours and how you live for years to come...
Tweet