Yea! No school today—it's finally summer!
Now you have all of this free time on your hands, and the sun's shining bright.
All you need is a plan! You can go to a friend's house, or stay home and clean your room, right?
Okay, maybe not!
This summer, make it your own. Do something fun in the sun!
Keep it wet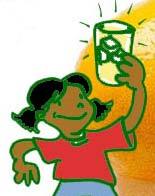 Make lemonade and invite your friends for slip-n'-slide.




Is the weather hot? Invite your friends over to your house for a day in the sun. First make the lemonade and find plastic or paper cups so you're ready for thirsty friends.
Then, set up a slip-n'-slide! You don't need to go out and buy one. You can make a slip-n'-slide yourself with a hose. Ask your parents if they have any plastic tarps.
Or fill up a little pool. Now that you're outside and in your bathing suit, this is a great time to make your own bubbles and bubble wand!
Here's a recipe you can use, with your parents' permission.
Try making art designs using the imprints of bubbles!
What's the snack of the day?




Keep it dry
Don't feel like getting wet? There are other things you can do outside:
Build a fort under a deck or a tree. Bring your favorite books inside the fort and spend the afternoon in some shade and fresh air.

If you are feeling creative, take a look outside the fort doors and draw what you see. See those kids over there on the slip-n'-slide? Draw them!
Post your picture on the refrigerator door for everyone to see.
Summer fun isn't limited to daylight hours...