Taxes and You: Meet Your New Best Friend -- the IRS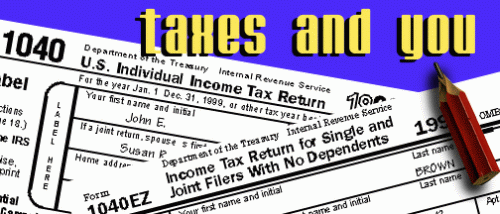 Meet Your New Best Friend -- the IRS
Congratulations! You've been an employee for the past six months and now you get to join the annual ritual of all employed adults: filing an income tax return.
If this is something new for you, don't despair. After scratching your head, completing, and filing tax forms, you'll likely receive an income tax refund. Yes, the money that your employer took out of each paycheck, called withholding tax, will probably be returned to you.
Curious about the average individual refund amount? Check out this tax statistics page.
Income tax dollars fund education, defense, social security, health and housing programs, the employment of government workers, and more. The Internal Revenue Service (IRS) is responsible for collecting a fair share of income tax from all working citizens each year and refunding money to those who have paid in too much. The IRS maintains a helpful Web site that can provide answers, forms, and resources.
Six tips to get your refund
1. Determine your total income. The company or companies that you worked for in 1999 must send you W-2 forms by January 31st, even if you no longer work for the company. The W-2 form reports your taxable income for the year and the amount of federal and state tax that was withheld from your paychecks. A W-2 form from each employer is needed to prepare your tax returns. If you earned more than $10 in interest from accounts at your credit union or other financial institution, you'll receive 1099-INT forms to report that income, too.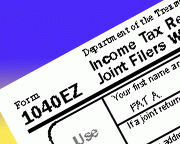 2. Complete the income tax form. If you made less than $50,000 in income (darn) and $400 in interest, you can file a 1040EZ Form. It's called EZ, because it's just that--easy. Well, at least it's the easiest IRS form to complete. You list your income from jobs and interest, any deductions, and the amount of federal tax that was withheld. Following the instructions will determine whether you're entitled to a refund or will need to pay additional taxes. Most likely you will receive a refund.
3. Remember to file with your state, too. The IRS only handles federal tax forms, such as the 1040EZ; however, if state tax was withheld from your paychecks, you should complete state tax forms too.
Need money now? Here's how to get your hands on your refund sooner.
4. Get the forms. Download forms from the IRS. Call the IRS toll-free number, 800-829-1040 to have forms mailed to you. Or go to your public library, which has federal and state forms and instructions you can take or photocopy. The best advice regardless of which you choose to do is: do it now. The longer you wait, the more time it will take you by phone or in person.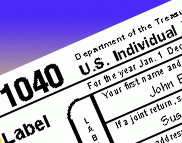 5. Ask for help. There are certified public accounts and tax preparation companies (H&R Block is the largest) that can complete and file tax forms for you. But expect to pay dearly for their services--$50 to $100. For a part-time worker, this could be more than the refund. Or check with your resident experts: Your parents have years of experience and can assist you with the process. While forms may seem easy to complete, you should have someone help you the first time.
6. File on time. There are three ways to file your tax forms--through the U.S. Postal Service, electronically through an authorized IRS e-file provider, or if you're eligible by touch-tone. You can find out more about filing by computer or by telephone. It may cost you to have your form filed electronically, but you'll get your refund in half the time.
You must file your tax forms no later than April 15th, or the following Monday if it falls on a weekend. That means it must be postmarked before midnight that day or sent by e-mail on or before that day.


True or False: Franklin always had mistrust for the English peoples and considered himself a true American pioneer. Click Ben's head for the answer.
FALSE. Franklin considered himself an Englishman until he signed the Declaration of Independence and helped write the Constitution. He thoroughly enjoyed the English theater and witty conversation that was lacking in young America.
Tweet