Fashion or Cool: Don't Be a Fool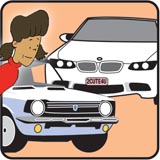 Snob goods come in all shapes and sizes.
For some reason we teenagers always seem drawn to name-brand clothing, despite the high prices. Why is this?
Because they're "snob" goods. That's what economists call items we purchase because of their price and status.
An example of snob goods—outside of the clothing world—would be sports cars. A Mercedes may not run better than a Toyota, but because of its reputation as a classy car and high price, it becomes a snob good.
Driving a Mercedes might make you feel important and classy, and others may feel jealous when they see you drive by. Some may feel disdain. Brand-name clothes are a less-extreme case.
Why we want brand names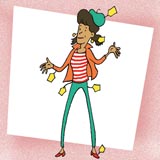 Can you count on being fashionable if you buy name-brand clothing?There is no denying that we feel cool in brand-name clothes like American Eagle Outfitters, Buckle, and North Face. When I was in middle school, I tried to buy as much Abercrombie & Fitch as I could afford.
Is Fashion Cool?

If you read Vogue or skim through Elle, you'll see the latest trends and learn what's hot to wear right now. It can be a mix of clothes from the '70s, or the latest off the runway.

Some people think vintage stuff is the coolest and trendiest stuff around, while others think that such a blast from the past is stale.


Close

A Mini Test

When I was in middle school all I wanted to wear was Abercrombie & Fitch and Ralph Lauren. Do I ever wear it now? Nope.

If I had only known then, before I spent so much money on my clothes!

Close


For casual footwear, I had to have either Converse or Vans. I had this idea that Adidas tennis shoes were nowhere near the quality, or coolness, of Vans or Converse.

For some people, buying brand-name clothes means that they fit better, the clothes themselves are better quality, or they just seem to have a better reputation among your friends.

People also buy name-brand clothing because of its trendiness. Companies like Gap and Forever 21 somehow always seem to have the latest fashions, no matter what.

These kinds of companies appear to be the trendsetters for the clothing industry. You think you can count on being fashionable if you buy brand-name clothes.

If you think you have to wear brand-name clothes, here are some ways to spare yourself some of the cost of your fashionable purchases...
Tweet