Spy
The object of the game is to announce something that you spy (see) and have someone guess the correct answer.
It should be something you can see constantly—like the sky, your dad's hat, or the truck in front of you—not something that you pass quickly on the road.
To start the game, you say aloud, "I spy something blue." Have people ask you yes or no questions, one at a time.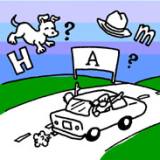 If you could live anywhere in the world...


The Question Game
This is a good game to play when the sun goes down and you can't see much out your window.
Ask thoughtful questions of everyone in the car. Then take the time to listen to the answers and then discuss them.
It's a great way to learn more about the people you are traveling with!
More games in 5-Spot
Scroll down a little bit to see a list of links to related stories and games about fun things to do in the summer. It's on the lower left side of this page. Try them out!
At 5-Spot we love finding new things to do, so if you have some good ideas, ask your parent or guardian for permission to click contact us and share them with us.
Who knows, you may be the one to write our next story on summer fun!

True or False: Lincoln was challenged to a sword duel before he was president.
Click Abe's head for the answer.
TRUE. Lincoln was to duel Democratic auditor James Shields in September of 1842 for a publicly stunt. Shields decided not to duel after seeing Lincoln's long reach with a sword.