New Ways to Use Old T-Shirts
8. Make it artwork
Many of your old T-shirts have designs too pretty to throw away. A great way to use that design is to frame it for your room.
Cut the arms, collar, and back out of the shirt. Then frame the front of the shirt so the design is centered in the frame. Finish framing, hang it in your room, and enjoy your new artwork.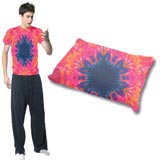 Reuse the design of a T-shirt to cover a pillow.


9. Cover a pillow
Another great way to reuse the design of a T-shirt for your room is to cover a pillow. There are two ways:
The no-sew method: Turn the T-shirt inside out and, using safety pins, insert a line of pins along the hem to close the opening. Turn the T-shirt right side out and insert a throw pillow. Tuck in the sleeves and upper part of the shirt, envelope style, and safety pin the tuck to secure.
If you have a sewing machine, watch YouTube to learn how to make your T-shirt into a pillow.
10. Make a rug
If you have many, many old shirts and are in dire need of a new rug in your house, you can solve both problems in one step: Crochet a rug!
Gather your old T-shirts to make t-shirt "yarn". Using a big crochet hook, you can now crochet your way to a soft, economical, recycled, handmade rug. Enjoy!
Something new out of something old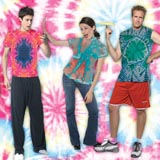 No shirts? No sweat.


Reuse the design of a T-shirt to cover a pillow.
Making something new out of something old is all about your mindset. You can look at a T-shirt for what it is at the moment, but with these suggestions you can see what it can become.
If you toss it out now with only a glance, you're wasting money. When you make something new from it, you give it a fresh look and save money, which is a smart move.

True or False: Referring to credit unions, Franklin said, "Pay what you owe and you'll know what's your own." Click Ben's head for the answer.
FALSE: This is one of his famous sayings from Poor Richard's Almanac, written in 1753. Credit unions were developed in Germany a hundred years later.
Tweet