What's Cool About Auto Insurance?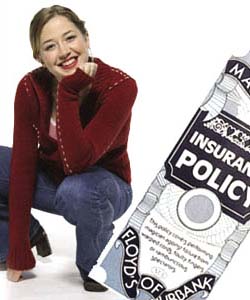 Insurance protects us from paying for major automotive damage!


What's cool about auto insurance?
Not much. But now that you've scored your ideal ride, if you close your eyes to auto insurance or ignore it, you'll pay plenty.
And that's definitely not cool.
The real deal
You buy auto insurance so you won't lose your money.
For example, if you are in an accident, auto insurance pays for damage or harm you cause to or get from others. Auto insurance also keeps you from losing too much money if your car is stolen.
The premium—what you pay for insurance—is based on risk.
What's a High-Risk Driver?
A high-risk driver is someone who could cost the insurance company more money than a low-risk driver. If they think you will cost them more, they will charge you more.
Here are a few more things insurance companies look at to measure risk:
Driving record. Accidents that are not your fault will increase your rates too. To an insurance company, being involved in multiple car accidents, (even if you're not at fault) suggests a pattern of reckless driving.
Unbroken coverage. If you had auto insurance and then dropped it, you become a risk. Why? It looks like you've been driving without coverage (a big no-no!) or had a previous policy canceled.
Your credit history. It may not seem fair, but your credit history controls other areas of your life, including insurance.
There are two things that insurance companies call
risk
that you can't control:
Age—Insurance companies look at the driving experience of your age group. Young drivers tend to have more accidents than older. It costs a company more to insure drivers under age 25, so they charge more for that age group.
Gender—Believe it or not, there's also a link between auto insurance and sex. Males have a history of more accidents than females, so their rates are higher.
Don't add to the number of Stolen Cars.


You have some choices in the other factors:
Where you live—That's where you'll do most of your driving. The rates are higher in the city where there are more cars, because there will be more theft and more accidents.
Grades—Most insurers give a lower rate for students who maintain a "B" (or higher) grade point average. The reason is that a good student is more likely to be a good driver.
Mileage—Drivers who drive fewer miles have less opportunity for accidents. Most insurers have a set number of miles that qualify for a lower rate, usually 5,000 to 7,500 miles a year.
Safety features—If your vehicle has anti-theft devices, anti-lock brakes, air bags, and automatic seat belts, you also may qualify for a lower rate.
Am I legal without insurance?


Make, model and year are also factors. Cars that cost more, are expensive to repair, or are favorite targets for thieves have higher premiums.
Ask your insurance agent to tell you what the insurance premiums will be before you buy the vehicle, and decuss the deductible.
Tweet